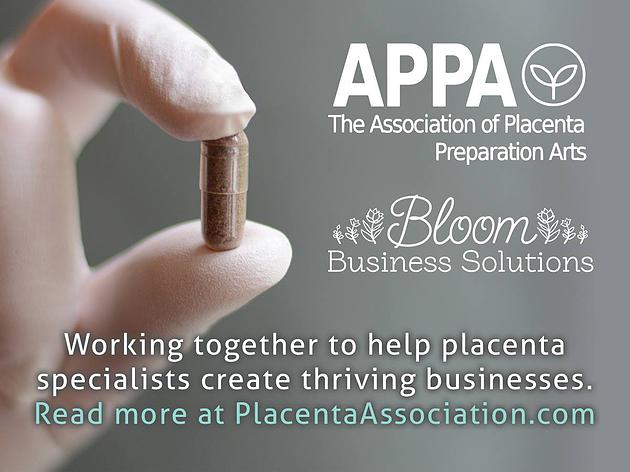 APPA is thrilled to announce a new collaboration with Bloom Business Solutions. Bloom's owner, Emily Fontes, has been a busy placenta specialist for 5 years and a graphic designer, marketing guru & branding expert since 2001. Bloom's new Grow Your Placenta Business eCourse is now included in the APPA training and certification program. Through this collaboration we will provide unprecedented business support for our APPA specialists and continue to lead the industry in exceptional training value.
With this addition, APPA specialists will learn how to:
• Launch your business right with every template you need, done for you: contract, intake, testimonial surveys, email templates, client welcome letters, client instruction booklet and more!
• Establish your branding with a beautiful logo & print materials that rock.
• Pull clients to you with authentic, effective, affordable advertising.
• Achieve top search engine ranking without any gimmicks.
• Get plenty of pre-qualified, ready-to-book inquiries through your website.
• Implement all the tips, tricks and hacks you need to make your placenta business run like a well-oiled machine.
Grow Your Placenta Business provides a perfect template for getting your business off the ground and the retail value for non-APPA students is $300. Starting August 6th, GYPB will be included in APPA certification as our 7th module for the amazing price of only $80 for APPA students.
ANNIVERSARY SPECIAL!
Anyone else who entered the giveaway qualifies for $50.00 off the APPA course!
*Offer valid for 30 days