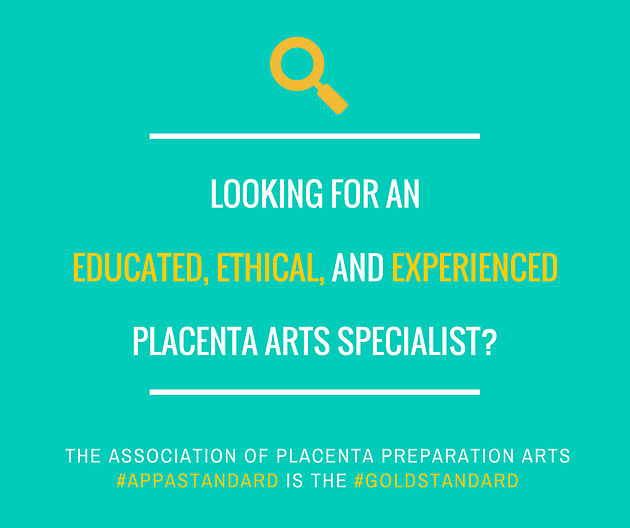 "My idea of professionalism is probably a lot of people's idea of obsessive." -David Fincher
When I began my journey into the world of placenta arts, my reading list encompassed as many medical textbooks as it did world renowned midwives' works. My goal was to understand not only the rich history of placenta usage and reverence across cultures, but also the biological and scientific implications. I also spent considerable time developing a business plan and strategy. At the core of my plan was a simple mantra: meet my client's needs with complete professionalism. No area of my business was exempt from my pursuit of professionalism. To this end, I chose to certify with The Association of Placenta Preparation Arts (APPA).
This certification prepared me with thorough evidence-based answers on every aspect of placenta handling and preparation. When prospective clients share their questions and concerns, I relish the opportunities to speak transparently about my education, certifications, standard operating procedures, placenta pickup to product delivery labeling and documentation system, encapsulation process, and sanitization. Providing a detailed and illustrative walkthrough allows for informed client choice in regards to preparation location, encapsulation method, capsule type, and any appropriate additional placenta based products to support postpartum wellness.  
As a professional, I am bound by a Code of Ethical Conduct. This, as much as my practical knowledge, is part of the contract with my clients. When interviewing a placenta arts specialist educated and certified by APPA, you can rightfully anticipate a professional experience whether you hire that specialist or not. When you do add an APPA specialist to your birth team, your experience will include:
The respect of your express privacy

The specialist  following all applicable laws, rules, and regulations within their service area

The specialist to be aware of and follow all applicable health and safety regulations

The provision of services in a timely manner or referral to fully qualified backup 

Proper refrigeration of your placenta during transportation and storage

Safe and sanitary processing of your placenta regardless of preparation location

Service to your placenta and your placenta alone with fully sanitized or disposable equipment only 

The specialist to reliably and competently perform the agreed upon services 

Data collection for statistical purposes only with your permission
With only one placenta arts opportunity per birth, it is essential to choose a provider who is educated, experienced, and ethical. Selecting one who also supports your right to choose the best options for you is professionalism's gold standard. As an APPA provider, I am empowered to help you do exactly that. 
I am the gold standard. I am #APPAstandard.